http://www.louisescountrycloset.com

Price: $5.00 each

Chicken saddles are made to protect your hen's back from a roosters nails and spurs. When a rooster overmates a hen this can lead to serious and sometimes life threatening damage. Backs can become bare in what seems like overnight. Often people think they need to trim the spurs or remove them entirely but that is not necessary with a chicken saddle. Why take away your rooster's best defense in protecting his flock when you can get a chicken saddle?

We make these saddles to allow feather growth without having to separate your hen from the flock or having to remove or trim anything on your rooster. These can also be used during a molt in case there is excessive pecking. Our design covers more for better protection and we use high quality materials while giving your hens something to look good in! These are the perfect addition to any emergency kit.

If for any reason your saddles do not fit when you receive them, we will gladly exchange them for what you do need (you must pay shipping).

Sizes:
Extra Small - 4"- 5" Long
Small - 6" - 7" Long
Medium - 8" - 9" Long
Large - 10" - 11" Long

I have so many that I can't show them all here but I can give links to my website which has them all, and the sizes I have for them. If you only feel comfortable ordering them here, that's perfectly okay! Feel free to leave a message here or PM me.

Saddles: http://www.louisescountrycloset.com/chicken-saddles/

We are able to do custom orders at no extra charge. Don't be afraid to contact me for anything, I love chatting!





We also have a Butterfly Saddle: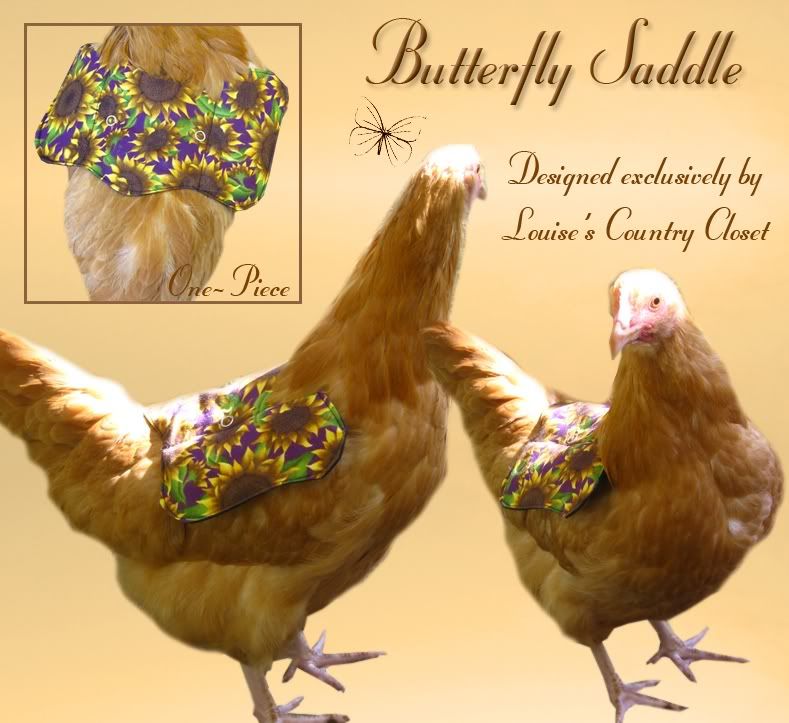 Like the regular chicken saddle, the Butterfly Saddle is meant to cover a hen's back to allow feather growth, or even to protect her before it happens. Some overzealous rooster's do damage to the wings as well which can be hard to cover - but not anymore!

Our Butterfly Saddle is all one piece and snaps underneath the wings making it incredibly easy to put on and stay on. Your hen will be able to flap her wings and move around normally; this does nothing to inhibit your hen's ability to do anything. Not only will your chickens look stylish in these, but they're also great to have in your emergency kit!

If for any reason your saddles do not fit when you receive them, we will gladly exchange them for what you do need (you must pay shipping).

Chicken Diapers:

Just about anyone who has owned a chicken will tell you that they can be the sweetest, most affectionate animal they have and now it is possible to have them as a house pet! A chicken as a house pet?! I know it sounds strange, but thousands of people keep these incredible creatures as pets and with a diaper, there's no mess!

Not only do these work for house chickens, but they're also a great item to have on hand if you need to bring a chicken inside to heal from a wound or sickness. Instead of being stuck in a cage all day, they can get out and stretch their legs a bit.. and look stylish at the same time! Like our chicken saddles, these work great to have in an emergency kit.

Our diapers are incredibly easy to put on, adjustable and they have a waterproof liner in the pouch. To make an even easier clean up, we offer diaper inserts that you simply slip inside the pouch and take out to clean when it's time to change. Easy!

The 'V' shape in our diapers allow it to cup around the tail of the chicken to provide a better fit without being too tight and offer the chicken enough room to reach their oil gland for preening. Our velcro is industrial strength which has a high cycle life of over 5000 peels! We strive to make our products high quality by buying only the best materials!

If for some reason your diaper does not fit, we will happily exchange it (for the price of shipping back to you) for the size that you do need.


Last edited on Sun Feb 26th, 2012 08:11 am by louisescountrycloset